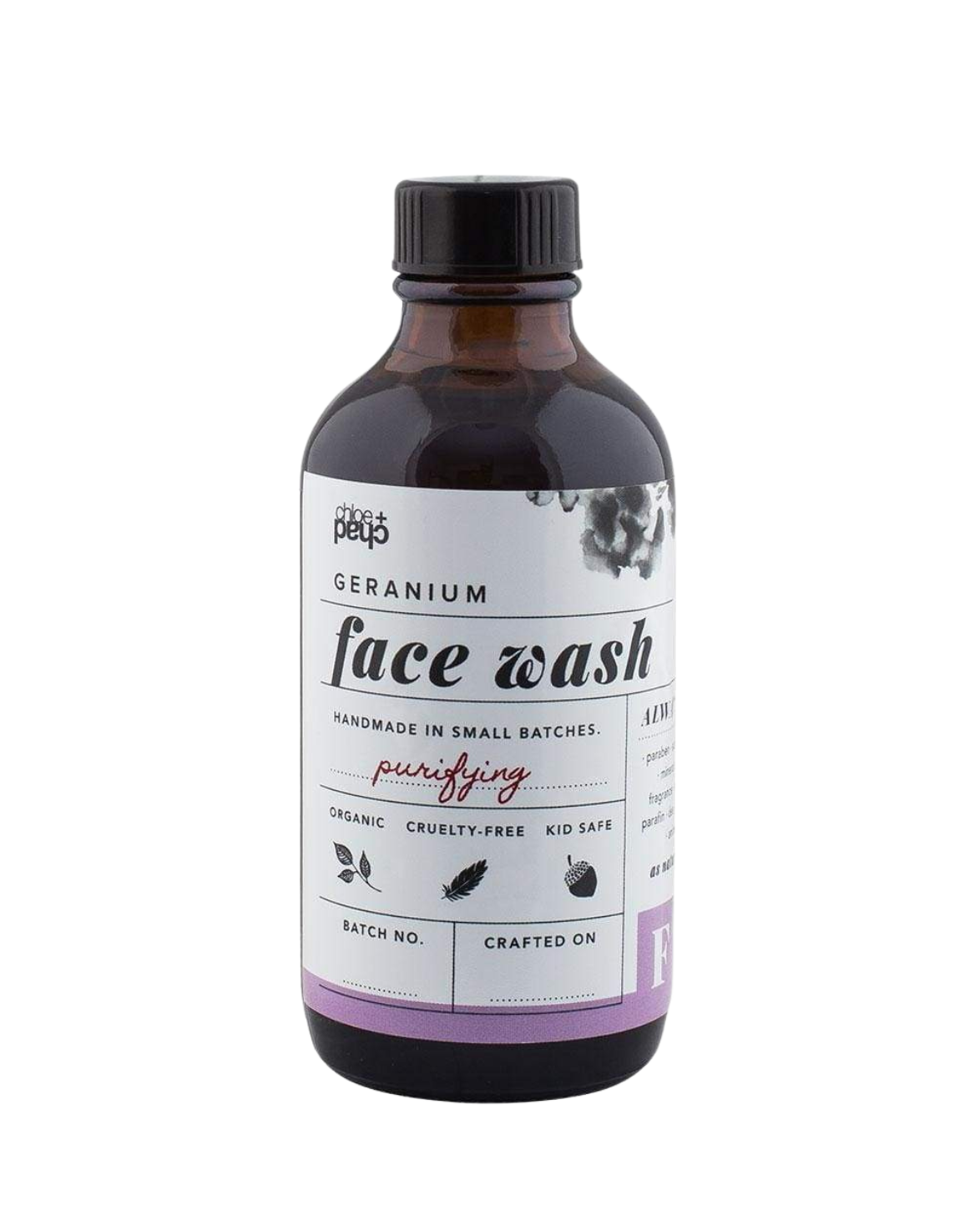 Geranium Face Wash
Sale price
$22.00
Regular price
(/)
Scented with fresh geranium essential oil, the Chloe & Chad Face Wash is infused with organic aloe vera juice that leaves skin hydrated and refreshed. The purifying formula of geranium, camelia, and rosemary effectively remove all traces of makeup and impurities to bring balance to skin. Botanical ingredients combined with nourishing oils leave skin next-level soft. The Geranium Face Wash provides a deep clean without stripping the skin of essential oils—it's the perfect set up for the Chloe & Chad Organic Hibiscus Face Toner.

Organic Coconut Oil: Rich in healthy saturated fats and fatty acids, coconut oil helps the skin retain moisture. It also acts as a natural lathering agents.
Organic Aloe Vera Juice: Natural hormones—auxin and gibberellins—help heal wounds and reduce skin irritation. While gibberellins stimulate the growth of new cells and auxin helps improve the natural firmness of skin.
Organic Castor Oil: This liquid gold draws out dirt, dead skin cells, excess oils and bacteria without drying out skin.

Why We Love It This is a simple yet effective system that works for the entire family. Put this in your bathroom and watch it disappear.

How To Use It Massage onto damp skin, then rinse with warm water.

What To Know The lather of most products is mainly cosmetic - meaning unnecessary chemicals and other additives are used to create the sudsy foam we know and love. This is due to the high demand for lather, but it's not at all needed for cleansing.

What Makes It Green This formula is made with only over 90% of the ingredients are plant-based. It is also formulated without parabens, phthalates, triclosan, or any of the other twenty toxic ingredients banned on our Toxic Twenty List.

Perfect For Normal, Combination, Dry, Oily, and Mature Skin Types.
SQ5725114
Choose options