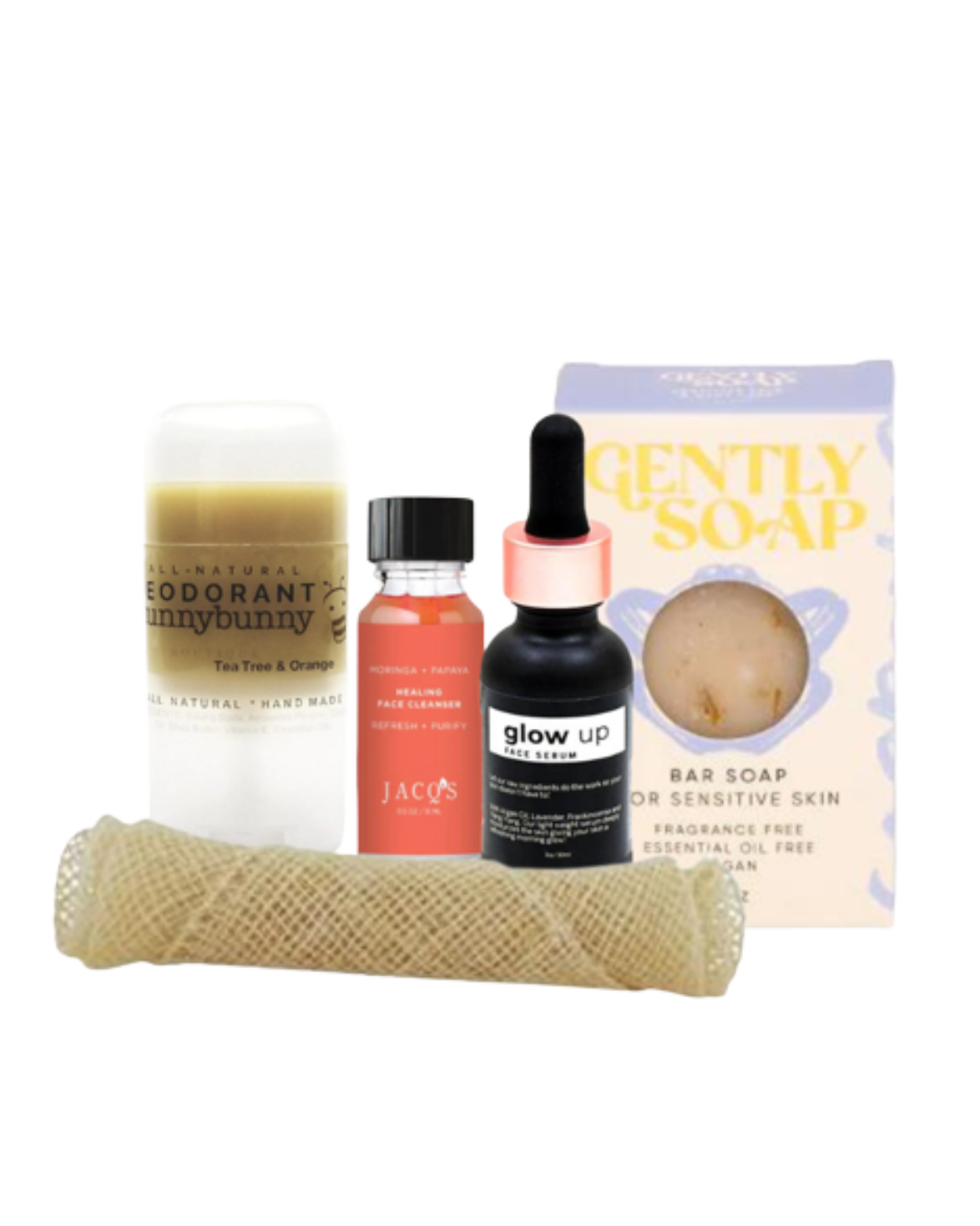 Ignite your grooming routine with the Gentleman's Essentials Bundle, a curated collection of all-natural essentials designed exclusively for the discerning modern man. Carefully crafted to elevate your self-care experience, this bundle is a gateway to all-natural skincare and an ideal starter kit for men embarking on their journey towards healthier, radiant skin but may feel overwhelmed by the plethora of options.

This bundle harmoniously combines the transformative power of the Glow Up Face Serum, the potent healing herbs chamomile and calendula in Gardener Knauft's Soap Bar, the rejuvenating effects of the Healing Face Cleanser, the refreshing scent of the All-Natural Deodorant (Tea Tree & Orange) and the vigorous exfoliation of the Ayate Wash Cloth. Together, they create a symphony of nature's finest ingredients tailored to nourish, invigorate, and address the unique needs of men's skin. The Gentleman's Essentials also speaks volumes of thoughtfulness as a gift that will impress any man in your life, whether it's a birthday celebration, a special occasion, or simply a token of appreciation for a friend or family member.

Experience the transformational power of the Glow Up Face Serum, a potent rich blend that unveils your skin's radiant potential. Infused with Argan oil, along with an essential oil blend of Lavender, Frankincense, and Ylang Ylang, this serum helps regulate sebum production and is a secret weapon against tired, lackluster skin. Let its enriching properties deeply hydrate, firm, and restore your complexion, leaving you with a vibrant and youthful glow that turns heads wherever you go.

Indulge in the rustic charm of Gardener Knauft's Soap Bar, the rugged companion for your daily cleansing ritual. Formulated with a harmonious blend of nature's potent healing herbs chamomile, and calendula, this soap delicately helps maintain natural moisture and relieves skin irritation and itching caused by eczema and psoriasis.

The Ayate washcloth is made from 100% natural agave fiber. Perfect for an all over vigorous exfoliation. Can also be used to target rough spots like the elbows, knees and feet. Durable and long-lasting, this cloth can be machine washed and dried.

Agave Fiber: Derived from Agave Sisanta plant, native to Mexico, this all-natural fiber is highly absorbent and provides a great exfoliating scrub.

Pamper your skin with the Healing Face Cleanser, a gentle yet powerful cleanser that combines the potency of fatty Amino Acids and Papaya Extract's Fruit Enzymes to harmoniously eliminate dirt, excess oil, and environmental pollutants. Enriched with nourishing vitamin B3 and invigorating Moringa Extract  it purifies and calms your skin delivering a soothing, revitalizing effect, leaving your skin irresistibly smooth, purified, and recharged and primed for the day ahead.

All-Natural Deodorant (Tea Tree & Orange):

Unleash the confidence within with our All-Natural Deodorant in the captivating scent of Tea Tree and Orange. This exceptional formula harnesses the antibacterial prowess of tea tree oil and the zesty notes of orange, ensuring long-lasting freshness throughout the day. Bid farewell to harsh chemicals and embrace the gentle touch of nature as it keeps you feeling cool, dry, and impeccably fragrant.
40208722853968
Choose options