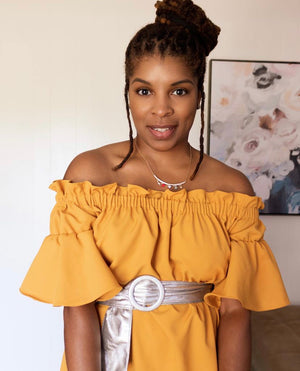 Adrina Fanore owned by African-American fashion designer Adrina Nelson, is a neo luxury lifestyle brand creating high end apparel, vegan beauty products and accessories. The designs are inspired by Black American Southern roots, personal travels and literature. Founded in 2012 in her 1-bedroom Brooklyn apartment, Adrina Fanore adopts a design aesthetic of minimalism, femininity and vibrancy through bold color palettes.
Born in 1983, Adrina came from a bloodline of seamstresses. Her great-grandmother, Maggie was a seamstress and domestic worker, who taught her eldest daughter, Estelle (Adrina's maternal grandmother), who taught her youngest daughter (Adrina's mother) the skill. And of course, Adrina obtain the skill as well. She advanced her skills by attending Parsons The New School for a couple semesters and immediately went into the corporate fashion & beauty industry. Her former titles includes Assistant Buyer, Assistant Technical Designer and Apparel QA Associate for companies like Ann Taylor and Calvin Klein.
During the pandemic, Adrina Fanore was revamped to incorporate technology and film, both of which Adrina has used over the years. Past projects have been featured in Essence, Fashion Innovation NYC, and online international publications. The brand's core values are rooted in sustainability, diversity, versatility, and producing high quality products. Adrina is an environmentalist who uses her brand as a platform for activism. She is dedicated to playing her part in making the industry better for the planet. All of her beauty products are vegan and cruelty free. Apparel collections are made in factories who practice social responsibility and safe work ethics.
Operating out of New York and Charleston, the brand caters to the modern woman across the globe who believes in a new definition of luxury. Her lifestyle is more than materialism but also making a change she wants to see. Adrina Faore looks forward to building the brand into something that we can all see ourselves in.