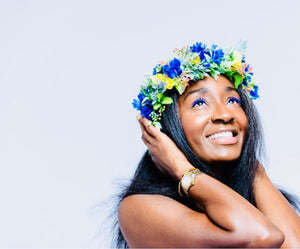 My name is Tyesh Barnor and I formed Halcyon Grace Company out of the need to handle my very own anxiety/stress. I was living in three dimensions my past, my present, and my future. This kept me from living in the moment, and caused me to frequently have the jitters.
I was a connoisseur of Glade plug-ins until I found out that the ingredients within those particular products were in fact faux. At that moment, I decided to make something natural that would help reduce my anxiety while dissipating odors in my personal space. I knew that if I could handcraft a concoction that could help me with my issues, I could then help others.
After praying, carefully planning, studying natural healing and learning about the benefits of natural fragrances. I was able to create and patent the idea of using essential oils with a water base as an air freshener that can help eradicate the dilemmas and be able to just breathe and not stress out over things we cannot control.
My very first scent (Breathe) is filled with Sandalwood essential oil which for centuries has been known to help individuals focus and be calm. It will help boost a person's memory. The second scent (Full of Energy) ingredients' will give you a pick-me-up on a Monday morning but will also make you feel like you are at the spa. The mixture of Lavender, Patchouli, and Pink Grapefruit essential oils is so soothing that it can also help with insomnia.
After creating my first two scents, I did not know who my target market would be until I realized that I had a consumer base all along. This group of consumers would be my very own cleaning clients. Before launching Halcyon Grace Co., my adult son and I had formed a successful cleaning company called Latimer Cleaning. Doubting myself at first, I didn't want to push my product onto them and have them reject what I thought was this cool invention. I created a plan to use my prototypes each and every time my son and I had a cleaning appointment. I used that opportunity to see if one of my loyal clients would inquire about the peaceful scent in their homes. My wish came true when a client asked me the name of the scent I used to make his condo no longer smell like his dog. The client went on to say that his place felt peaceful from the aura of the fresh scent. He asked me on three different occasions where he could find this scent that made him calm, cool, and collected. I finally shared that it was formed by my very hands and that when I release it to the world, he would be the first to know.
About two or three weeks later, that cleaning client was Halcyon Grace Co. first customer. Two weeks after that, Breathe and Full of Energy were available in two local stores in Atlanta. From there, I created Halcyon Grace Co.'s third scent, Oye Como Va, that will force your senses to come together and dance. This particular scent is filled with Plumeria essential oil that will awaken your spirit. Each and every bottle is made by hand. Since they are natural, they are safe enough to spray over the body and over your linens. Everything within our company has healing powers including the name. Halcyon means to denote a period of time in the past that was idyllically happy and peaceful.