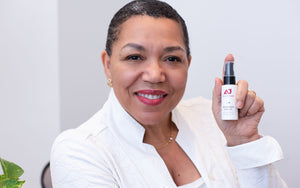 Dr. Anne
Washington, DC

T
he future of healthcare isn't just about research and technological advancements.
According to Anne Beal, the future of healthcare is all about the patient. As healthcare professionals embrace their roles as members of a customer-facing industry, the focus of providing care will shift away from output and toward the patient's experience throughout their healthcare journey.
AbsoluteJOI
® is a clean, safe and effective skincare line developed by a doctor for her daughters and made for all people of color. Clean skincare means no unnecessary additives, perfumes or dyes. We start with skincare traditions from around the world that use natural plant-based ingredients for healthy skin. We combine those with pure active ingredients to create effective and gentle products to help you glow – because melanin rich skin benefits from natural vitamins, antioxidants and fatty acids for balance and an even tone. This is skincare that combines science with global traditions.
This is skincare for you.