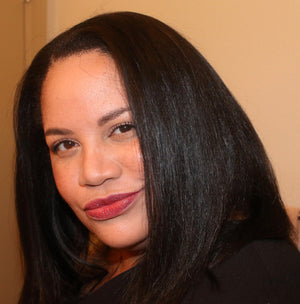 Angela Fields, Creator, and CEO of CurlyCoilyTresses
Here's my story. While still working in a corporate position, I began transitioning to my natural hair. At that same time, the scope of my allergies increased to include fragrances, amongst many other items. I was struggling to moisturize and hydrate my natural hair and was completely frustrated at the lack of available options.
Almost 20% of the general population is sensitized to at least one allergen, and studies find that fragrance is one of the most frequently identified substances causing allergic reactions. Indeed, fragrance allergy affects 2-11% of the general population. 
Yet a whopping 96% of shampoos, 98% of conditioners and 97% of hair styling products contain fragrance, according to Secret Scents from Women's Voices For The Earth! Wow!
The remaining products I found did nothing for my natural hair. I found better options in Canada and Europe, but I still wasn't completely satisfied.
At this point, I knew the ingredients I needed. I just couldn't find fragrance and allergen-free formulations. So, I started making products in my own kitchen!
I'd try different formulations -- again and again and again -- until I found what worked. It was a huge sense of accomplishment! I couldn't purchase what I needed, but I crafted solutions by myself! Huge!
My friends and family told me I needed to sell my formulations, but I had a full-time job -- until I didn't. My position was eliminated and I was released from employment. I wasn't sure what would be next for me. I hadn't been happy with my employment for years, but it was in my comfort zone. So it was easy to stay.
About 3 weeks into unemployment while driving -- stepping away often brings clarity for me -- over the Howard Frankland Bridge, I realized my destiny was already in my kitchen. I just hadn't been listening -- seemingly deaf for years. But I'm listening now!
Unemployment pushed me from my comfort zone right into my destiny!
CurlyCoilyTresses®️ seeks to disrupt the beauty industry status quo by offering innovative, clean, fragrance-free and effective natural hair care options! Our heroine product is Enrich Moisturizer and its supporting cast is Nourish Treatment and Organic Pumpkin Seed Oil!