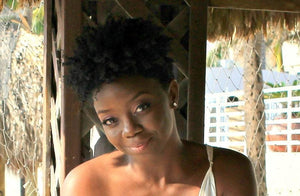 Jacq's Organics is a plant-based all natural bath, body, and skin care brand created for growing families. They source raw, unrefined, and local ingredients to make their artisanal products in small batches. As a result, there products contain pure, rich, and healing nutrients and vitamins free of synthetics fillers, harsh preservatives, or toxic additives.
Excited about the birth of her new baby, she wanted to learn everything she could about caring for her bundle of joy and her growing tumor. Driven by knowledge, she learned about many environmental toxins used in beauty and personal care products. She saw a need for products that were all natural, organic, family-friendly, environmentally safe, and moisturizing.
When her husband, James, saw her passion and drive to create bath products that didn't contain harsh and toxic ingredients, he encouraged her to start Jacq's Organics, which was born the same year her daughter was born.