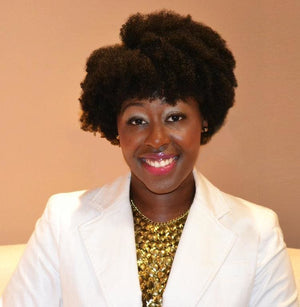 Yve-Car Momperousse remembers waking up on Saturday mornings dreading to get her hair braided by the next door neighbor. However, she loved having her mom wash her hair in the kitchen sink. Whenever Yve-Car's hair was breaking, mom pulled out the magic oil that seemed to solve everything for everyone in the house.
Like most girls, Yve-Car wanted to be seen as beautiful. She did all types of things to her hair to make it look good: chemical straightening, weaving, and braids, to mention a few. Over the years, Yve-Car did lots of damage to her hair for the purposes of style.  After each "haircatastrophe", she knew exactly what to do to regrow and repair her mane— call Mom and ask for a bottle of Haitian Black Castor Oil.
In 2008, after growing her hair naturally, Yve-Car went to a hair dresser and asked to have her hair pressed. The Hairdresser took one look at her enormous afro and said "I am going to need significant heat to straighten that hair." It turns out that the beautician burned Yve-Car's hair by using an iron that was too hot.