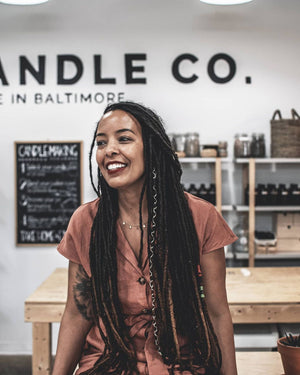 Letta Moore opened KSM Candle Co. to prepare for the apocalypse.
Watching The Walking Dead, Letta Moore realized she needed to master everything she could do with her hands if she wanted to survive a zombie horde takeover. At first, she didn't plan on opening her own business — she sold her handmade knitwear, soy candles and metal jewelry to friends and coworkers. As the demand for her products grew, though, she realized she was onto something. 
In the early days, she called her business Knits, Soy and Metal.
"For a small business trying to get their footing here in Baltimore, trying to find like-minded people or even just a place where they can just gain access to education, having Made in Baltimore is invaluable," she said. "When I was starting out my business, I didn't have any of those centralized places where I could find resources."