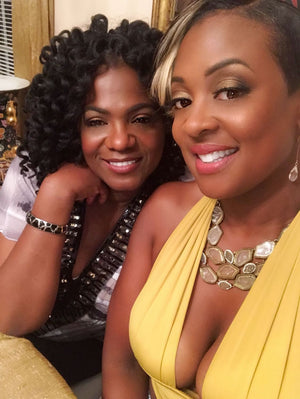 When OB/GYN and breast cancer survivor, Dr. Barb, met ex-Pharmaceutical Sales Consultant turned natural health enthusiast, Kimba (AKA The Natural Diva), for the very first time, there was no denying the chemistry was instantaneous. Dr. Barb and The Natural Diva began to swap ideas and share insights on chemical-free solutions to the feminine care issues we're all so familiar with. Realizing that many women craved honest and professional information about feminine health and things their mom never wanted to discuss, they started an educational YouTube channel, BK Naturals…it's an honest, candid chat between a doctor and a diva!

Women began tuning in and to date their most popular video has over 8,000 views! As questions arose around what products to use for everyday hygiene maintenance, the pair realized that there was no complete product line to address feminine odor, chafing, irritation, and more. The rest, they say, is Kushae!

Our Kushae products are the first of its kind: an all-natural, doctor formulated feminine hygiene system created by women, for women! It's where nature and science collide!
Our products contain no sulfates, pthalates, artificial ingredients, synthetic ingredients, alcohol, EDTA, PEG, mineral oil, or parabens.
Additionally, we are clear that Kushae's natural products can assist in reducing the recent rise in gynecologic cancers and leave a lasting impact on women all over the globe. Our partnerships with amazing cancer research and patient support organizations are a testament to our commitment as we provide education, natural products, and additional in-kind support. We aim to give women back their voices in advocating for feminine health and hygiene and to insist on natural products made especially for women, by women.