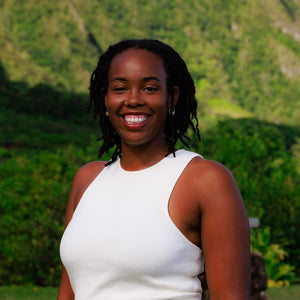 I am Kori, mompreneur and creator of Kye Teahouse - a Hawaii based tea company that specializes in organically grown herbal blends that are both healthful and delicious. I spent my early childhood in the south where tea played a major role in our everyday lives. While studying nursing and nutritional sciences at Howard University, I had the privilege to travel internationally to countries such as Nigeria and Costa Rica to acquire knowledge from naturopathic healers about their methodologies. As a tea artisan, I combine herbs in a way that is harmonious with our bodies. I am mindful to source ingredients from small, organic farms where farmers practice pono (righteousness) and are in touch with the Āina (powerful stewardship and love for the land).
Kye Teahouse was established on the foundation of Going Back to Nature. While in nursing school, I grew curious about complementary methods of healing that would allow the patient to play an active role in their well-being such as lifestyle and dietary regimen. These aspects were seriously lacking from our nursing curriculum. I decided to take time to study abroad in Costa Rica where I had the opportunity to study herbs and I immediately fell in love with the phenomenal powers of nature. As time grew, I decided to turn my passion into a business. In 2018, I moved my family to Hawaii where we now source our ingredients at a USDA Certified Organic farm. I know the farmers, their methods, where our ingredients are from and that they are powerful healing agents that happen to also be delicious.
At Kye Teahouse, we are environmentally sustainable because all of our packaging and shipping materials are biodegradable. Our tea bags are unbleached and compostable. Our overwrap is plant plastic. Being surrounded by the ocean gives us the undeniable responsibility of caring for our ocean wildlife and keeping the land that sustains us clean and healthful for many generations to come. What need do you currently see being unmet that you address? Currently, I would like to gain information on how to acquire employees. I do work with contractors but in order to expand, I need help. I am currently looking for an assistant and a social media specialist. I know that in order to have employees, I need to be an awesome leader. I would like to gain skills on how to be an effective leader that works well with others while receiving excellent results.
The product that I am most proud of would be our BE FREE blend. It is my favorite everyday blend because it is holistically beneficial. It tastes yummy, provides energy, fights inflammation, is nutrient-dense and contains powerhouse herbs that have miraculous effects to our bodies with long-term use. This particular blend is my longest standing and a fan favorite.