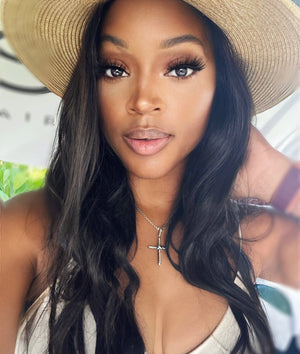 SĒ Haircare (Pronounced SEE) is a brand that curates clean, organic, and natural skin and haircare products for families in a new way- through multi-purpose products for every generation.
Our company originated due to frustration in finding a truly all natural product for my daughter's delicate, curly hair and sensitive [eczema affected] skin. 
Her hair began to fall out, and I struggled to find a product that promoted growth, added + sealed moisture, and provided protection, while being baby friendly. It also seem impossible to relieve her dry, eczema affected skin. After wasting money on "natural" and widely promoted brands [that weren't truly effective], and extensive research on hair growth, scalp conditions, skin regeneration and ailments, I turned to mother nature and developed two formulas to remedy Noa's skin and hair issues. Hence, my first batches of our FORTIFYING HAIR + BODY BUTTER and BOOST HAIR GROWTH OIL. Her hair quickly grew back full, shiny, and simply put "absolutely beautiful". Not only did Noa's hair make a u-turn but so did her skin! 
We use sustainably sourced ingredients from around the world to deliver the ultimate hair and skincare experience for the entire family- from head-to-toe and in between.
It is important that we embrace, nurture, and love our hair and skin, no matter our age, the texture, or complexion. Our products help your family do that.
MADE FOR BABIES • STRONG FOR DADS • LOVES BY MOMS ™