Skin Scholars
This collection is empty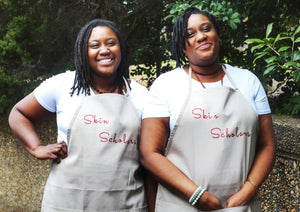 Skin Scholars started many generations ago in Southampton County Virginia, in the gardens and forest of our family's lands. Our 7x Great Grandmother was blessed with the knowledge of the land and took care of her family from the land. There wasn't exactly your neighbourhood Walgreen's to pop into when your skin was burned by the sun or when your hands ache from tending to the gardens. They would grow their herbs and flowers fresh and collected saps, oils and fresh water from the land to create creams, salves and tinctures to heal their family.
Our Great Grandmother and her oldest daughter, our grandmother, brought the mothers and daughters in our family together to teach us the gifts of the earth and the family secrets to ensure that our generation and the next kept the healing legacy alive.
Skin Scholars was officially launched in 2015. Skin Scholars has grown into a holistic skincare line harnessing generational wisdom and modern day trends to celebrate all skin types.