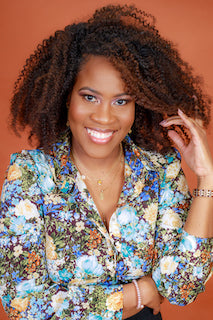 When her 3-year-old daughter came home sobbing about her hair, Nathalee knew she had to do something. She was heartbroken that her beautiful toddler already assumed her hair should be straight like all her school friends. Nathalee was determined to show her daughter that their natural hair deserved to be celebrated.
There was just one problem: Nathalee hadn't been able to grow her hair past her ear since her first perm at age 12. Rotating through perms, color, heat, and braids ever since, her hair health had never recovered.
But Nathalee was not about to let that stop her.
When the natural hair growth products on the market proved disappointing, she didn't give up. When useful information about proper scalp care and natural hair loss treatments was hard to come by, Nathalee still wasn't deterred.
Instead, she invented her own growth serum.