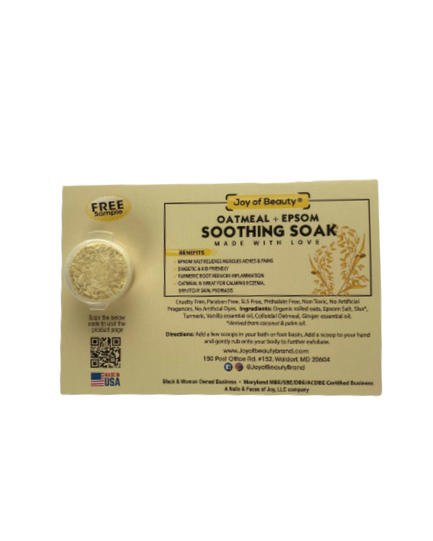 Oatmeal + Epsom Soothing Soak
Sale price
$30.00
Regular price
$32.00
(/)
Soak in self-care with the Oatmeal + Epsom Soothing Soak! Infused with pure Epsom Salt, it aims to help ease soreness from muscle pains and oatmeal to deeply moisturize your skin while the warm scent of vanilla essential oil comforts the mind. Add this soak to your weekly bath time routine to bring balance, harmony, and clarity back into your life. Turmeric Root- known to reduce inflammation Oatmeal - known for calming Eczema, Dry/Itchy Skin, Psoriasis Vitamin E- Works as an emollient to hydrate skin while locking in moisture

Why We Love It The Oatmeal + Epsom Soothing Soak helps you get glowing skin, smooth feet, and soothe achy muscles after a long day or challenging workout without expensive trips to the spa or bath beads.

How To Use It This soak can be used in your pedicure water or your bathwater. Add a few scoops to your bath or foot basin. Add a scoop to your hands and gently rub onto your body to gently exfoliate.

What To Know Despite having the name "Epsom salt," this mineral is essentially a pure mineral composition of magnesium, sulfate, and oxygen rather than salt. Epsom salt offers many health advantages, including relieving stress and relaxing the body, calming the nervous system, relieving pain and muscular tension, supporting healthy nerve and muscle function, and removing toxins from the body.

What Makes It Green Diabetic Friendly, No Artificial Fragrances, No Artificial Dyes, Cruelty-Free, Paraben-Free, Non-Toxic, Made in the USA

Perfect For Itchy, irritated, or inflamed skin

Size 3.33 oz

Ingredients Epsom Salt; Turmeric; Oatmeal; Vanilla Essential Oil; Ginger Essential Oil; Vitamin E.
39840969424976
Oatmeal + Epsom Soothing Soak
Sale price
$30.00
Regular price
$32.00
Choose options